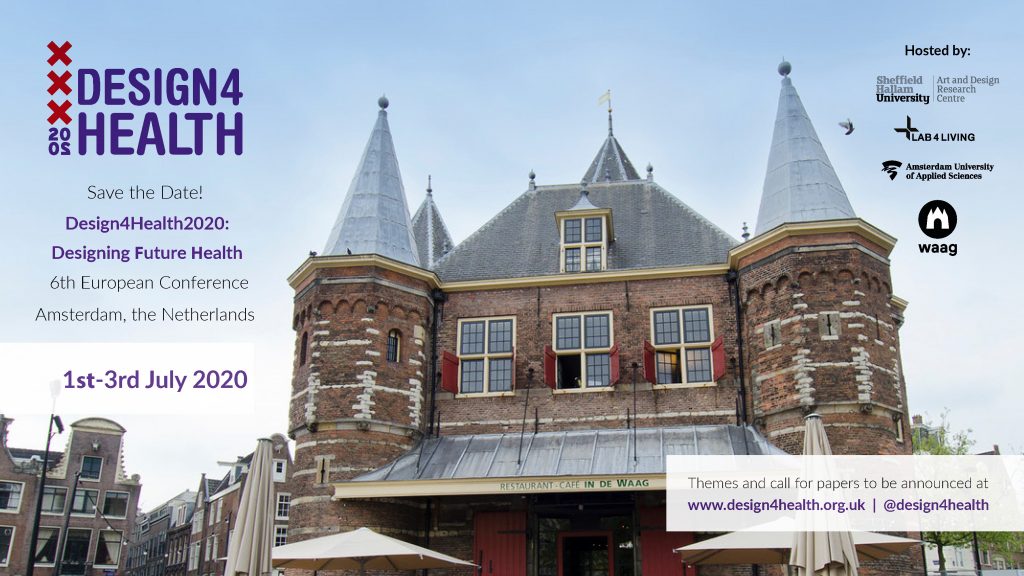 The Official Proceedings of the conference are now available in the Publications section.
The 6th European Design4Health conference will no longer be hosted as a physical event in Amsterdam from 1st to 3rd July 2020. However, there will be published online proceedings and some limited online activities to mark the first day of the conference.
Please visit www.design4health2020.nl and join the conversation for updates: D4H mailing list @design4health #D4H2020.
---
N.b.. Due to the ongoing crisis and a number of enquiries, we are extending the full paper deadline until Sunday 3rd May.
If your abstract was accepted and you were invited to submit a full paper, we still invite you to submit if your personal circumstances allow. The deadline is now Sunday April 19th May 3rd 2020, 23.59. We appreciate we are living in very uncertain times – contact us if you have any concerns about submitting your paper. Full papers will be reviewed and those accepted published online.
Please download the D4H20 full paper guidelines (revised March 2020) and D4H20 template before preparing your full paper:
To submit your full paper, revise your existing submission at https://conference.shu.ac.uk/index.php/events/design4health2020
We are sadly unable to accommodate those with poster submissions or exhibits but acknowledge your valued input.
If you choose not to submit a full paper, please submit your final version abstract with full author details for online publication instead (see D4H20 full-paper-guidelines-v2 above).
The proceedings will be published with ISBN online in the Publications section.
---
The future is now! This year, we invited submissions which consider the role of design in the future of health and care. In addition, we welcome work which interrogates methods, ethics, evaluation and how knowledge is mobilized.
We invited participation from researchers and practitioners across the areas of design, creative practice and health in order to develop new dialogues and offer different perspectives. The 6th conference explores work which considers how past trends and current research might inform future practice.
Timetable:
Abstract and Poster deadline: Sun 5 Jan 2020 23:59 CET
Abstracts and Posters accepted: w/c 24 Feb 2020
Full paper deadline: Sun 3 May19 April 23:59 CET
Full papers reviewed and accepted: May-June 2020
Online proceedings published: 1 Jul 2020
Conference limited online activities only: 1 Jul 2020
Please check the conference website for full details and updates: https://www.aanmelder.nl/design4health2020

Conference website: https://www.aanmelder.nl/design4health2020
General conference enquiries: Anke de Koning, University of Twente, The Netherlands.
Join the conversation: D4H mailing list @design4health #D4H2020