News
Second Lives for the Third Age is on the front cover of the Parliamentary Report on Assistive Technology
http://www.dh.gov.uk/prod_consum_dh/groups/dh_digitalassets/documents/digitalasset/dh_127996.pdf
See page 56
Hydro-Delivery for the Back gets some more publicity:
The Engineer Magazine and LumbaCurve
Our Field Labs are now Public Events and Part of National Science and Engineering Week:
'Sports Lab: The Science Behind the Medals' and National Science & Engineering Week 2011
Museums Sheffield: Weston Park, Western Bank, Sheffield S10 2TP
http://www.museums-sheffield.org.uk/coresite/html/whatson.asp?calendar=exhibitions-1#/?i=1
'Paddling the Dragon' field as part of National Science & Engineering Week 2011
Winter Gardens, 90 Surrey Street, Sheffield, S1 2LH
http://www.school-portal.co.uk/GroupDownloadFile.asp?GroupId=21408&ResourceID=3685364
We were open Mon - Fri 14th -18th march 10.30-3pm in the Winter Gardens.
We had approx 250 people have a go on the boat, ages ranged from 3 yrs to 92 yrs. Six school groups used the boat including a group of school children with learning disabilities. We also had an Italian stag party have a go - very well behaved and very well dressed!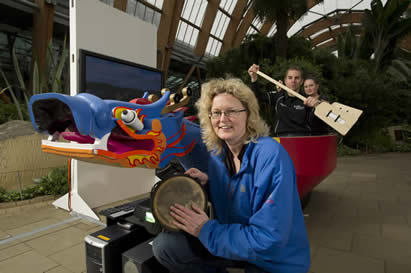 Words participants used to evaluate their experience included : (children through to adults)
- unique, innovative, awesome, fun, challenging, good, not bad, easy, great, exercise, brilliant, tiring, cool, nice, hard work, adventurous, amazing, uplifting, exciting, good experience, fantastic, interesting, random, incredible, extraordinary, something new, good exercise, rhythmic, therapeutic, tantalising, teambuilding, enjoyable, relaxing, co-operative, different, competitive, realistic, nautical, learning, active, inspiring, peculiar, physical, intimidating , a laugh, unexpected, unusual.
So it certainly lived up to expectations in terms of delivering a sensory, interactive, fun and challenging experience. In an audience specific environment it works very well. Particularly in schools or as a tool to support teaching in science/arts/health. Lots of people stopped to read the posters and were interested in how it came about. It had appeal on many levels - aesthetically, the film, the craftsmanship, the design, the technology, and the exercise.
The Brain' as part of National Science & Engineering Week 2011
Pennine Lecture Theatre, Sheffield Hallam University, City Campus
Dr. Dalton, Professor David Parkinson, Dr. Alessandra Princivalle, Dr. David Smith and Professor Nicola Woodroofe, Faculty of Health and Wellbeing - Sheffield Hallam University
http://www.school-portal.co.uk/GroupDownloadFile.asp?GroupId=21408&ResourceID=3685364
EFL Receives Feasibility Award
The Engineering for Life (EfL) team has recently been successful in a bid to EPSRC for a Feasibility Account with a total value of £250k (FEC). The Account has been awarded to allow us to support multidisciplinary projects up to a maximum level of £60k per project. This call is now open.
Feasibility Account Information & Application Form (DOC, 201KB)
The closing date for submissions is 17.00, Mon 22nd November
For more information please contact us by e-mail v.milanovic@shu.ac.uk or phone 0114 225 4037
NATIONAL SCIENCE AND ENGINEERING WEEK, 11 - 20 MARCH 2011 The theme next year is Communication
REGISTER YOUR TALK
Please go to the Science Week website and complete the online form: www.scienceweeksy.org.uk/lectures/<http://www.scienceweeksy.org.uk/lectures/>
Please note the deadline of 29 October 2011 to register your talk.
If you are offering a range of talks please fill in a separate entry for each talk. If you are offering the same talk several times then indicate this in the box provided on the form.
The title and description you put on the form will be used in the booklet we send to schools, so please make this sound as attractive to your audience as possible.
REGISTER AS A STEM AMBASSADOR
Many of you are already STEM Ambassadors. This assures the schools that you have been CRB checked and are insured to work as a volunteer.
If you are not an Ambassador, then the on-line form will direct you to the STEMNET website, where further information will be provided:
http://www.stemnet.org.uk/ambassadors.cfm
As a speaker going into schools, you ought to be CRB authorised. By volunteering for NSEW you are already doing STEM Ambassador work. Registering as a STEM Ambassador means that you will receive all the benefits this national scheme provides: free CRB checking, full insurance cover and training.
SHEFFIELD MANUFACTURING WEEK, 14th - 18 March 2011
A feature of National Science and Engineering Week in South Yorkshire is Sheffield Manufacturing Week.
Public and private sector partners from across the City Region are uniting to create a series of focused events, practical workshops, exhibitions and conferences to promote local manufacturing industry, under the umbrella of Sheffield Manufacturing Week, which is being designed to celebrate, promote and improve manufacturing in the Sheffield City Region. It will strive to change the perception of the industry amongst the education community, business community and general public, and appeal to local, national and international audiences. Sheffield Manufacturing Week will take place during w/c 14th March 2011 to coincide with National Science and Engineering Week 2011.
For further information, please click on the link below.
www.sheffieldmanufacturingweek.com<http://www.sheffieldmanufacturingweek.com>
A FINAL NOTE:
Science Week in South Yorkshire is one of the largest such programmes in the United Kingdom. We can be justifiably proud of such an achievement. But this of course relies heavily upon your good will and enthusiasm. On behalf of the Science Week organising committee, we would like to thank you in advance for making such an important contribution to the promotion of Science, Technology, Engineering and Mathematics in the region.
Cambridge and Laing O'Rourke Launch New Engineering Centre
The engineering company Laing O'Rourke and the University of Cambridge have together launched plans to create a multidisciplinary engineering research and teaching centre.
The Laing O'Rourke Centre for Construction Engineering and Technology will be funded as part of what they are calling a "multimillion pound collaboration" between the firm and the university. The centre will carry out research and teaching, including undergraduate teaching, as well as a two-year masters in construction engineering, PhDs and post-doctoral research. Cambridge University news
Newsletter Out Now
The June edition of the Research & Funding Newsletter which provides an introduction to the Engineering for Life Research Network along with useful resources for researchers is available now at
https://staff.shu.ac.uk/enterprise/research/research_fundingnews.asp.
Research Cafes
Our popular series of Research Cafes will be returning after a well-earned break on September 15 2010, we will be visiting some of our established projects and catching up with their progress. As usual our cafes will be held in The Showroom Cinema Cafe Bar just a stone's throw from the city campus and Sheffield train station.
Please see our Events Page for more details.
Interdisciplinary research complex opens at Harwell
A £26 million research facility that brings together life and physical sciences researchers has opened at the Harwell Science and Innovation campus in Oxfordshire
The Research Complex at Harwell aims to provide an interface for the traditional disciplines, says the Medical Research Council. Research at the centre will include structural studies of membrane proteins, biological imaging, energy research and nanotechnology.
Harwell is already home to the ISIS neutron sources and the Diamond Light Source, the UK's national synchrotron. The centre will also allow visiting and resident research teams to work with beam line scientists and technicians from these facilities, says the MRC.
"This is a fantastic new laboratory space, at the heart of a cluster of world-leading large research facilities," said Simon Phillips, director of the centre. "We know from experience many unexpected scientific advances take place as a result of such interactions. A novel aspect of the Complex is that it acts as a 'Research Hotel,' meaning that scientists from universities all over the UK can come here and use our facilities."
The project was funded by the STFC, MRC, Biotechnology and Biological Sciences Research Council, Engineering and Physical Sciences Research Council, Natural Environment Research Council and Diamond Light Source Ltd.