Professor Nicola Woodroofe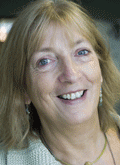 Head of the Biomedical Research Centre
Health and Wellbeing
Biomedical Research Centre
Owen Building, City Campus
Phone extension 3065
E-mail n.woodroofe@shu.ac.uk
Website www.shu.ac.uk/bmrc
My research has focused on disease mechanisms over a period of more than 25 years, specifically in neurological disease.
I graduated with a 1st class honours degree and PhD in biochemistry from University of London, followed by postdoctoral research work at University of Wisconsin, USA and then the Institute of Neurology, UCL before I became a senior lecturer in Immunology at Sheffield Hallam in 1994.
My research program focuses on the immunopathogenesis of multiple sclerosis (MS) and more specifically, the role of chemokines and metalloproteinase enzymes.
I am a reviewer for MS Society funding bodies in the UK and overseas as well as for MRC, BBSRC and the Wellcome Trust.