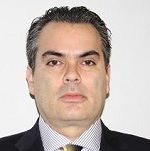 Dr. Arturo LAURENT became an Attorney-at-Law after graduating summa cum laude from the Iberoamericana University in Mexico City. As an International Lawyer he has specialized in Crime Prevention, Criminal Justice, Anti-Terrorism, Transnational Organized Crime, Anti-Corruption International Criminal Law, Human Rights, Democracy and Rule of Law.
He has occupied positions in the public and private sectors. In the UK he was Legal Adviser to the Police Forces in England and Wales (PNLD). In 2007 he was appointed by the Lord Chancellor as Magistrate for the Criminal Courts in England and Wales. He has been Director-General for the Office of the Attorney General (Mexico). As a diplomat and in the international fora, he was Minister to the Permanent Mission of Mexico in Vienna and participated in several Expert Working Groups of the United Nations Office on Drugs and Crime (UNODC) as both a governmental and independent expert.
In academia, after completing his Masters (Nottingham) and Doctoral (Hull) degrees in International Criminal Justice and Human Rights, he lectured at the masters level in the UK. He has several publications addressing international aspects of the administration of justice. In the private sector, Laurent has been an International Law Consultant. He is currently a Programme Officer for the Terrorism Prevention Branch of the United Nations Office on Drugs and Crime.
Dr Laurent joins the CENTRIC team as an external advisor and visting researcher.