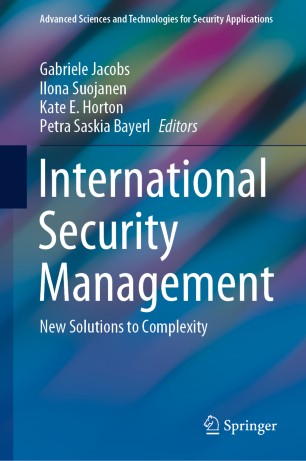 Title: International Security Management
Editors: Gabriele Jacobs, Ilona Suojanen, Kate E. Horton, Petra Saskia Bayerl
Publisher: Springer
ISBN: 978-3-030-42522-7
Date of Publication: 2020
This book offers a new look at international security management combining practical applications and theoretical foundations for new solutions to today's complex security and safety challenges. The book's focus on safety as a positive experience complements the traditional approach to safety as risks and threats. In addition, its multi-stakeholder, multi-disciplinary, international and evidence-based approach provides holistic and timely insights for the field. Topics raised in this book focus on the crucial questions of: Who is safety actually for? (and) How can sustainable safety solutions be jointly created?
This book provides comprehensive insights into the latest research findings, practical applications and suggestions for dealing with challenges in international security management in integrated and sustainable ways, making it relevant reading for practitioners, as well as academics and students – with a view to obtaining thorough, first-hand knowledge from serving experts in the field. We explore new ways of working with citizens, police and policymakers in order to co-create safety. This book emphasises the importance of safety as a topic that matters for all.