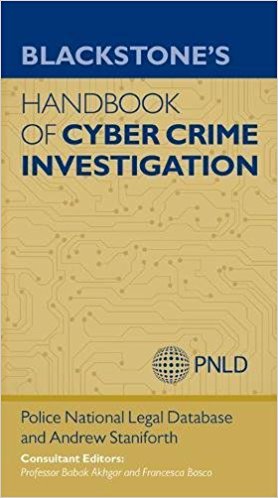 Title: Blackstone's Handbook of Cyber Crime Investigation
Authors: Police National Legal Databse (PNLD) and Andrew Staniforth.
Editors: Professor Babak Akhgar and Francesca Bosco.
Publisher: OUP Oxford
ISBN: 978-0198723905
Date of Publication: 30.03.2017
Written by a team of experts, this unique book provides police officers with an operational reference and resource addressing all manner of cyber crime threats, including online anti-social behaviour and hate crimes, organised cyber crime and fraud, online child exploitation and cyber terrorism. Presented in four main parts, Parts 1 and 2 offer an overview of the different types of cyber crime and explanations of the national structures and strategies in place to combat them, as well as case studies and scenarios. Part 3 offers practical guidance on the investigation of cyber crimes, developed with the support and guidance of a multi-disciplinary team of cyber experts from policing, academia and private industry, and Part 4 covers the key legislation, police powers and points to prove relevant to each key category of offending and is written by the Police National Legal Database. All sections in Part 4 are accompanied by explanatory notes and related case law, ensuring quick and clear translation of cyber crime powers and provisions.
Concise and accessible, this book is an ideal reference and resource for all operational police officers, the extended police family and partners working to keep communities safe from the online phenomenon of cyber crime.