We are excited to announce the launch of a new Yorkshire Cyber project. Yorkshire Cyber is a collaboration between CENTRIC and Stuart Hyde Associates to develop cyber resilience for SMEs across the Yorkshire and Humberside region.
Yorkshire Cyber, recognises that cyber-security support is often aimed at larger companies with conferences and events held in city centres. This reduces the opportunities for SMEs in smaller and more remote locations to receive the support and information that would assist them in building effective cyber resilience. Yorkshire Cyber will reach out to SMEs in a range of towns across Yorkshire by holding immersive, interactive events, using innovative technology, designed by CENTRIC, in order to fill this gap and extend the reach of essential support.
The project will engage directly with a number of SMEs from six locations across Yorkshire by:
Sharing information on cyber-security such as prevention of cyber-attacks, loss of data and misuse of network as well as awareness-raising of indirect impact such as data protection liability;
Interactive workshop events: a scenario simulation platform will enable business participants to experience and learn about attacks and consequences. Multi-way communication and knowledge exchange between participants and  organisers will bring an interactive discussion element to the event.
Disseminating proactive awareness campaign material.
This is a small-scale, short-term project that involves CENTRIC and Stuart Hyde Associates Ltd. The Yorkshire and Humberside Regional Organised Crime Unit are actively supporting the project and will, along with local police cyber units, be involved with the events. The impact of the project will be maximised by linking with other cyber-security bodies and organisations; this is currently being developed.
Yorkshire Cyber has received Higher Education Innovation Funding (HEIF), which supports and develops knowledge-based interactions between universities / colleges and the wider world and which results in economic and social benefit to the UK. The project began in December 2017 and will conclude in June 2018.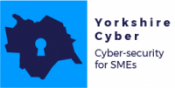 Would you like to find out more about the project? visit the Yorkshire Cyber website or follow us @YorkshireCyber.