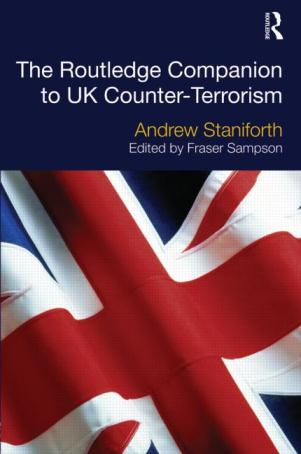 Title: The Routledge Companion to UK Counter-Terrorism
Authors: Andrew Staniforth, Senior Research Fellow, Centre of Excellence for Terrorism, Resilience, Intelligence and Organised Crime Research; Detective Inspector, North East Counter Terrorism Unit (NE CTU)
Editors: Fraser Sampson, Chief Executive & Solicitor, Office of the West Yorkshire Police & Crime Commissioner
Publisher: Routledge
ISBN: 978-0-415-68585-6
Date of Publication: October 2012
For the very first time, this new volume explores the evolution of counter-terrorism practice in the United Kingdom, brought to life with dramatic case studies and personal insider accounts provided by leading policy makers, prosecutors and counter-terrorism practitioners who openly reveal the challenges and operational reality of countering contemporary terrorist threats. This unique title is enriched by leading academic perspectives providing analysis of counter-terrorism responses and identifies lessons to be learned from the past, the present, as well as exploring the terrorist threats of the future to be tackled by the next generation of counter-terrorism practitioners. Contributors include; Professor Sir David Omand GCB, Kings College London; Deputy Assistant Commissioner Stuart Osborne QPM, Head of Counter Terrorism Command, Metropolitan Police Service; Shami Chakrabarti, Director of Liberty; Lord Carlile of Berriew CBE QC, Independent Reviewer of National Security Policy in Northern Ireland; David Anderson QC, Independent Reviewer of Terrorism Legislation; Sue Hemming OBE, Crime Prosecution Service, Professor Andrew Silke, Head of Terrorism Studies, East London University, Professor Babak Akhgar, Director of CENTRIC.
Review: "The scope of this book is extremely enriching. Some of UK leading counter-terrorism practitioners and world-renowned researchers were brought together to share their knowledge on what is arguably one decade of many years of New Era global terrorism. The book is insightful and informative, not too short of an encyclopedia of counter-terrorism practices and responses." Dr. Barak Ariel, Jerry Lee Fellow in Experimental Criminology and Teaching Associate in the Police Executive Programme, University of Cambridge, UK.