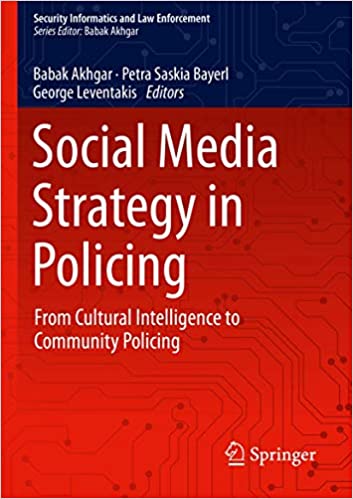 Title: Social Media Strategy in Policing: From Cultural Intelligence to Community Policing
Editors: Babak Akhgar, Petra Saskia Bayerl, George Leventakis
Publisher: Springer
ISBN: 978-3030220013
Date of Publication: October 2019
This book addresses conceptual and practical issues pertinent to the creation and realization of social media strategies within law enforcement agencies. The book provides readers with practical methods, frameworks, and structures for understanding social media discourses within the operational remit of police forces and first responders in communities and areas of concern. This title – bridging the gap in social media and policing literature – explores and explains the role social media can play as a communication, investigation, and direct engagement tool. It is authored by a rich mix of global contributors from across the landscape of academia, policing and experts in government policy and private industry.
Presents an applied look into social media strategies within law enforcement;
Explores the latest developments in social media as it relates to community policing and cultural intelligence;
Includes contributions and case studies from global leaders in academia, industry, and government.