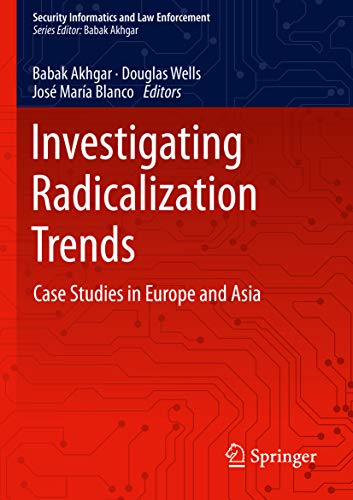 Title: Investigating Radicalization Trends: Case Studies in Europe and Asia
Authors: Babak Akhgar, Douglas Wells, José María Blanco
Publisher: Springer
ISBN: 978-3030254353
Date of Publication: October 2019
This book provides a detailed insight into the complex dynamics of radicalization that are in play amongst contemporary society. The authors focus on understanding emerging trends and models that can be used to analyse and understand modern violent extremist and xenophobic discourse. The chapters cover multiple regions, providing a collective analysis of country-specific case studies for the formulation of best practices, recommendations and learning material. It is recommended that this book may serve as a compendium for practitioners, academics, teachers and students wishing to gain state-of-the art knowledge. Topics covered by the authors vary from hands-on practical information to tactical, operational, strategic and ethical guidance. This book provides a holistic, harmonized approach based upon European internal security strategies recognizing that internal security cannot be achieved in isolation from the rest of the world. Additionally, this material resonates with the EU's commitment to fight extremism in a rational manner, alongside promoting human rights, democracy, peace and stability within the EU Member States.
Presents a comprehensive understanding of the interconnectivities and trends behind emerging radicalisation patterns;
Features newest conceptual and practical knowledge to monitor, analyse and respond to radicalization around the world;
Provides a comprehensive view into the methodologies for analysis, through visualizations, case studies and applications.